Health Benefits of Bael Fruit- Bael plant is one of the divine plants as per the Hindu culture. They offer it's leaves to Lord Shiva. Its fruit is also used as Pana and offered to Lord Shiva in Shiva Ratri and various festivals. There is a Believe that it's the favorite leave of Lord Shiva.
Health Benefits of Bael Fruit
As per scientific research, it has a lot of health benefits and helps us to make our body healthy and fit.
Bael Leaves : Bael or Bliva is a plant otherwise known as Bengal quince or golden apple. Its leaves are in a three-pronged shape. People used its leaves for various purposes.
Health Benefits of Bael Fruits and Leaves –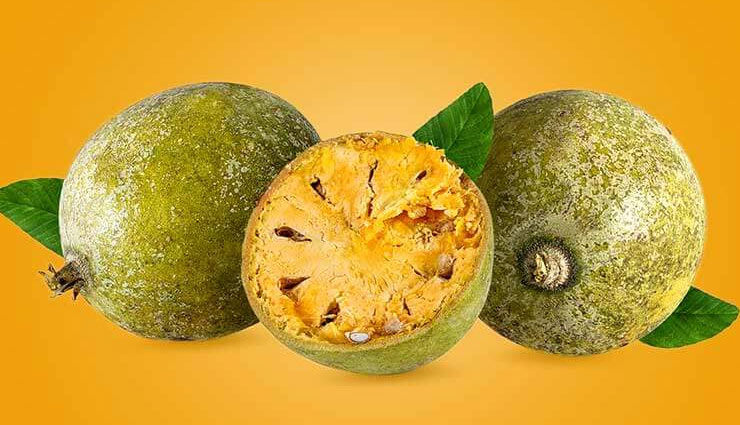 1. Bael leaves have a lot of medicinal benefits. It contains riboflavin, potassium, fiber. That helps in the growth and development of your body.
2.It contains Vitamin A, Vitamin c, Vitamin B12 and Vitamin B1, B6
3.It has a great effect on our stomach. It can control the side effects of medicine and help to maintain the Ph level in the stomach. That can cure acidity, gastric ulcers, and other such problems related to the stomach.
4.The three dosh or problems Vatta, Pita, and Kapha as per the Ayurbeda can be controlled by taking bael leaves. It helps to balance the bad effects of these 3 problems.
5.It helps to control lifestyle diseases like hypertension, diabetes, heart problem, etc.
6.Bael Pana and its leaves help to reduce body odor, make your skin young and charming. The mixture of Baela leaves can remove black spots on your skin.
7.Bael pana and leaves can help to fight against hair fall and helps in smoothening dry and rough hair.
8.The fibers are natural medicine for constipation and improve the digestive system.
9.Bael juice can help to control cholesterol. The high-level anti-oxidant can reduce the risk of heart problems.
10.It works as a natural blood purifier and works effectively to prevent dysfunction of the liver and kidney.
11.As it contains Vitamin C and, antioxidants, it helps to cure Scurvy and other health hazards caused by Scurvy.
12.It is a natural immunity booster and helps to prevent infection in the body caused by the infecting agents like bacteria.
Wood Apple Squash Benefits
Bael Juice is one the favorite drink of Indian people. In summer days it is easily available in the market area. Considered as the most lovable and highest-selling fruits in the summer season.
To make bael juice you need bael(ripped), sugar, coconut, black pepper. First, break the sell of the bael and remove the seeds and collect the softened part in it.
Remove the solid particles and now extract the juice. Then add a little bit of sugar, black pepper powder, coconut, black salt.
Then mix it well and enjoy the drink to make the summer days cool.
Disclaimer: The information included at this site is for educational purposes only and is not intended to be a substitute for medical treatment by a healthcare professional. Because of unique individual needs, the reader should consult their physician to determine the appropriateness of the information for the reader's situation.
Also Read:- 10 Summer Fruits That Should Be a Part of Your Daily Diet