Recently Kaziranga National Park's census has been  declared by the National Park authority.
This year Kaziranga National Park records over 868 swamp deers along with nearly 70,000 birds of 126 species by using the point count method.
This year Waterbird population of Kaziranga National Park's dropped by 28.61% between 2020 & 2021.In between 2020-2021 the total number of birds is 93543 and in 2021-22 it is only 66776.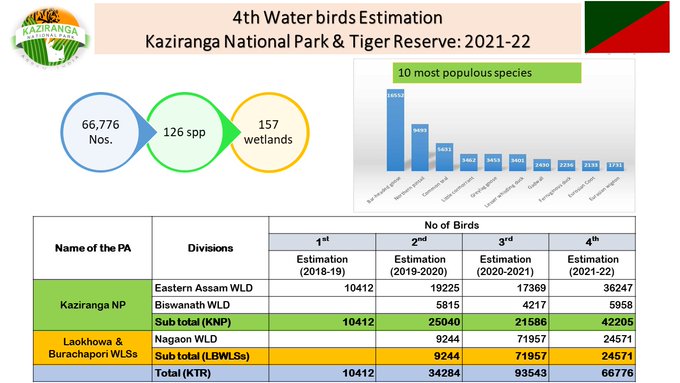 Territory wise, 36,247 birds under Eastern Assam Division, 5958 under Biswanath Wildlife Division and 24, 571 under Nagaon Wildlife Division
The total number of swamp deer is 868 between 2021-22. Out of 868 swamp deer total no. of male deer is 173, female-557, yearling-138.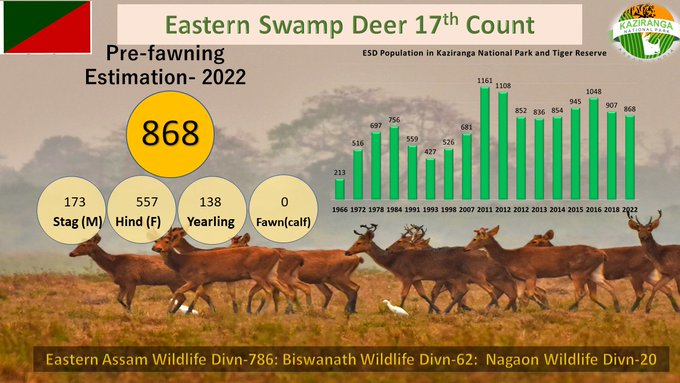 The year-wise population of Swamp Deer-
2011-1161
2012-1108
2013-836
2014-854
2015-945
2016-1048
2017-907
2018-907
2022-868
Also Read;Collarwali', Tigress Who Gave Birth To 29 Cubs, Dies In Madhya Pradesh